Where Do You Want To Be For Christmas?
Last Christmas day I was on a beach in Thailand with my son and my girlfriend. It was a glorious day, we swam in the warm clear waters of the Gulf of Thailand. A Thai lady kept us supplied with icy cold bottles of beer as we sat in the shade on the sandy beach chatting and laughing.

It was a wonderful experience and one you should experience for yourself.

On a side note I think it's fair to say I'm never going to make it as a topless model.
Mind you I have lost 7 kilos since that photo was taken.

Here we are in the second half of the year already. Have you thought to yourself; "wow time is going faster every year". Soon enough it's going to be Christmas. That time of the year that is meant to be fun with family and friends, sharing gifts and partying.

For many it's not so much fun for the simple reason, they are broke and have to go into more credit card debt to pay for the gifts they want to give.

Imagine if only they had a home based business that could provide all that and more. Imagine if they had spent the year doing what was needed to grow the business instead of folling themselves with "busy work".

You know what I mean, straightening out their desk so it's all neat and tidy for when
they find soem time to make calls. Flipping through the product catalogue and being all excited about the wonderous efeects the latest postion has on skin care. Chatting to other distributors about how well that new guy crossline from them is doing.

None of those things build a business. Prospecting people, calling and qualifying leads, getting the leads to presentations, getting them started, teaching them. Doing these things over and over and over causes momentum in the business and solid growth.

All of which leads to new pin levels, walking across stage, becoming more magnetic to prospects and it leads to having a much bigger bank account with zero credit card debt.

Where Do You Want To Be For Christmas?
Whatever it is, do you actually want it enough to take the action needed to get it?

MLM business is not rocket science, it's a simple formula. Every MLM busienss has a variation of the same theme. You help 6 people get what they want and you will get what you want.

That's the price. There's no secrets, there's not magical bullets, it's a matter of paying the price, that is the onyl shortcut. Well that and getting trained by reading self development books, learning the best scripts, overcoming objections and getting people to presentations and meetings.

You can do this business, sure some guys get it easy and move up the ranks quickly.
They do so because they are at a higher level of development than most other people.
They have already paid some of the price by reading self help books and applying what they learnt. It really does speed things up.

On the Apache Leads site under the TRAINING menu we have a bunch of free downloads to help you. Just because they are free certainly does not mean they are worthless, quite the contrary. They will quite probably improve your calls, which gets you better results which in turn, makes calling leads much more enjoyable and profitable.

The faster and bigger your business grows, the more confident you become and the more magnetic. People will seek you out, they will ask to be in your business.

Pay the price, get it over and done with and spend a vacation on an exotic beach, remember time is speeding up and the years are racing by. Better to do it now and enjoy a whole bunch of time in the sun.

Since that photo was taken, we've been back to Thailand a few times as well as took off for a holiday in Bali, Indonesia and Singapore. Later this year we will be spending 6 weeks in Australia.

The reason for saying this is to prove it to you that the rewards you get from having both time and money freedom are definitely worth any price you have to pay.

I urge you, make the committment and take the action

He're a photo of myself, a mate of mine and my girlfriend in Bali. When I say "see you on the beaches" I'm not kidding, you need to be here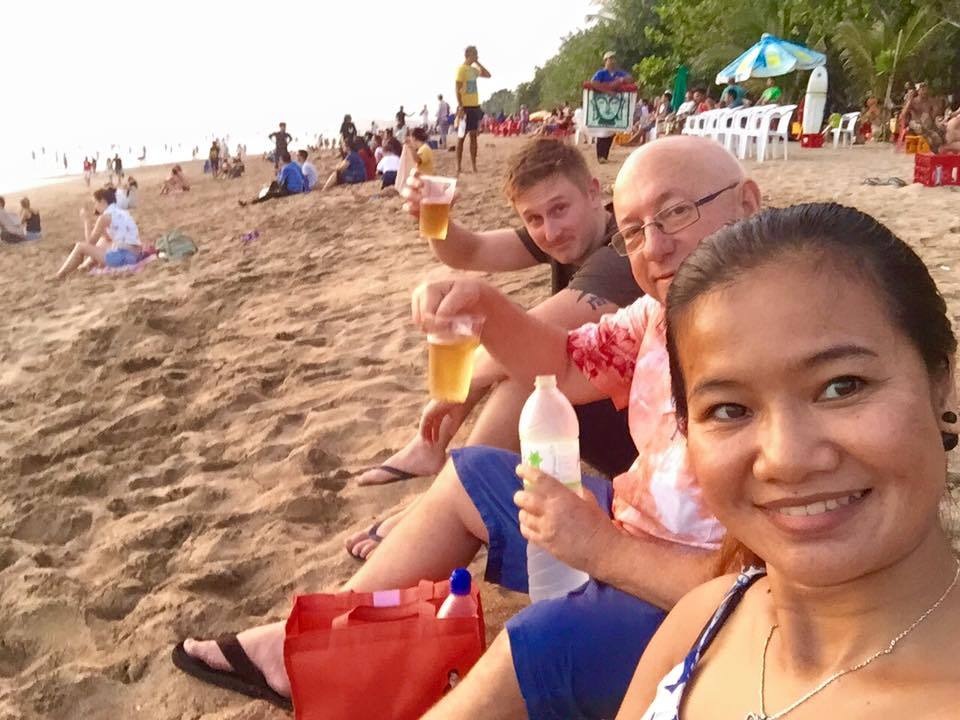 Where Do You Want To Be For Christmas?
Let us know where you want to be this Christmas. Maybe we can meet you there