| | | |
| --- | --- | --- |
| | Everything you ever wanted to know about MLM leads | |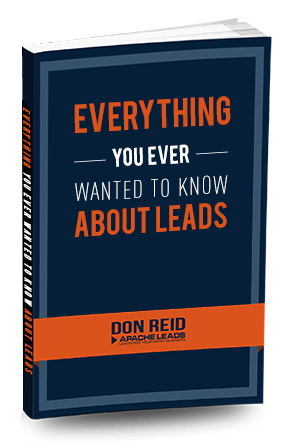 Are you new to Network Marketing and feel lost and bewildered when it comes to investing in Leads?
Don't know the difference between a real time lead and a premium lead?
Wonder if it's better to get a bunch of aged leads over a smaller number of fresh leads?
What the heck is a surveyed lead?
What's the best way to buy Traffic?
Are Guaranteed Signups a waste of money?
IMPORTANT!WATCH THE VIDEO BELOW & GET OUR FREE BOOK "EVERYTHING YOU EVER WANTED TO KNOW ABOUT LEADS"
Hi, I'm Don Reid and I started Apache Leads way back in 2003. Since then We've helped thousands of Network Marketers get closer to their dreams, faster. Millions of leads have been delivered, all of them guaranteed.

Over this time we have learnt a thing or two about leads. Now for the first time ever, I'm lifting the lid on the mlm leads industry.

Nothing is held back, we even reveal the dirty little secret about "exclusive leads" which the industry will not be happy about.

Discover how to know if a lead company is good, honest and reliable… in seconds. Don't ever be fooled again by fast talking scammers. You will be armed with the information needed to know you are dealing with a good company.

I reveal why all those people on YouTube telling you that generating your own leads is easy are scamming you. Once you read the explosive revelations you will see them for what they are.

Learn what all the different kinds of leads are for and how to use them the right way.

Discover how to use lead capture pages and traffic to get real exclusive leads for your business.

Guaranteed Signups, learn the truth and how you can still use these signups

Instantly Download "Everything You Ever Wanted To Know About Leads" today and never be ripped off again
Brian Garvin

Wow! I was floored at the responsiveness of these leads. Usually when I join a lead company I never know what to expect next. It's one of the best programs I've been involved with not to mention an easy sell. And being personal friends with the owner should vouch for the credibility of this site even more!
James Hannan

Don you and your company continue to impress me. You have under promised and over delivered in so many areas and have given me so much confidence in you, your team and your company. I have no hesitation in recommending anyone to use your services.