Bulk Text And SMS Messaging
Are you worried about the future?
These days we all face a constant uninterrupted barrage of noise from advertising, phone calls, social media,email, billboards, etc etc, it is increasing by the day according to many recent reports.

As a marketer this is making your job of communicating with your prospects more difficult by the day. The bad news is it's only going to get worse.

The good news is there is one avenue which people can still be reliably reached and you can be 97% sure they will open and read your message.

Being the sharp operator I know you to be, you already know what I'm talking about.

Text Messaging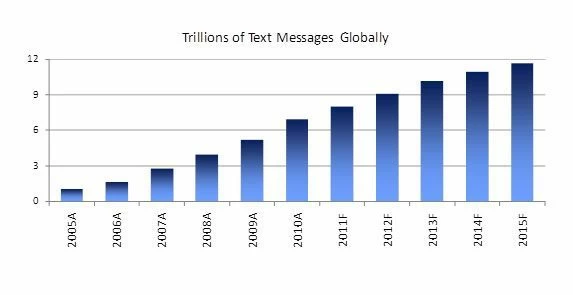 The Growth Of Text Messaging
Yes that's right it's one of the very few mediums which is pretty much guaranteed to be seen by the receiver. Not many people can resist reading a text message right?
But who is going to sit around texting prospects one at a time, not you I be
No way
It's much easier and way more productive to send out hundreds of text messages at the press of a button.
Imagine hundreds of people receiving your message and calling back wanting more information. Would that help your business grow in leaps and bounds? You betcha it would!
We recommend Leads Rain for your cloud based texting service. It's very competitively priced, has a ton of features and is easy to use. Yes they will allow you to import leads you purchase from Apache Leads.
Leads Rain works for the USA, Canada, United Kingdom and Australia
Go here to check it out. Navigate to the Cloud Texting to find all the information you need to get started today
Leads Rain also are our recommended service for Ringless Voicemail Drops. You can read our course on this new amazing way to get thousands of leads calling you and get a discount coupon for Mobile Leads here. If you are already up to speed on Voicemail Drops and Bulk Text Mesaging then get a hot supply of Mobile Leads here
If you wish to use text messaging and / or voicemail drops for Australia then go here to load up on a bunch of Australian Economy MLM Leads. The vast majority contain mobile phone numbers.
It should be noted that I'm not a lawyer as pretty much anyone could attest to. If you feel there is a concern in your area about contacting people by text then you should seek your own legal advice. My thoughts on the matter are that if soemone completes are lead capture form on the internet then they are giving you permission to contact them. Simple as that, but that's not legal advice.
Everyone gets and sends text messages everyday, it's a very common form of communication these days.
A word of advice. when importing leads into any system whether it's email, texting or voicemail drops, don't go over board and import 10,000 leads in one go. Be sensible and avoid shocking your system provider by importing a few hundred at a time. That's a pro tip gained from experience
So, what are you waiting for, saddle up and get your business automated and really rocking
We can't wait to see you on the beaches!
"Bulk Text And SMS Messaging" By Don Reid