That Night In Davao When We Went To Bulk Pack Burger Station
Greetings

Last night we were wandering the streets of downtown Davao City and came across what may be the worst named burger joint "Bulk Pack Burger Station"

These 4 hotdogs cost less than 50 cents for the lot and sadly that was well overpriced. We ended up giving them away to some hungry looking street kids, who definitely appreciated them much more than we would have.

We were a little excited and loud but seemed to keep the staff and customers amused and entertained for quite some time.

This one is a selfie including the lovely girls who put up with our idiocy while still managing to cook and serve the other customers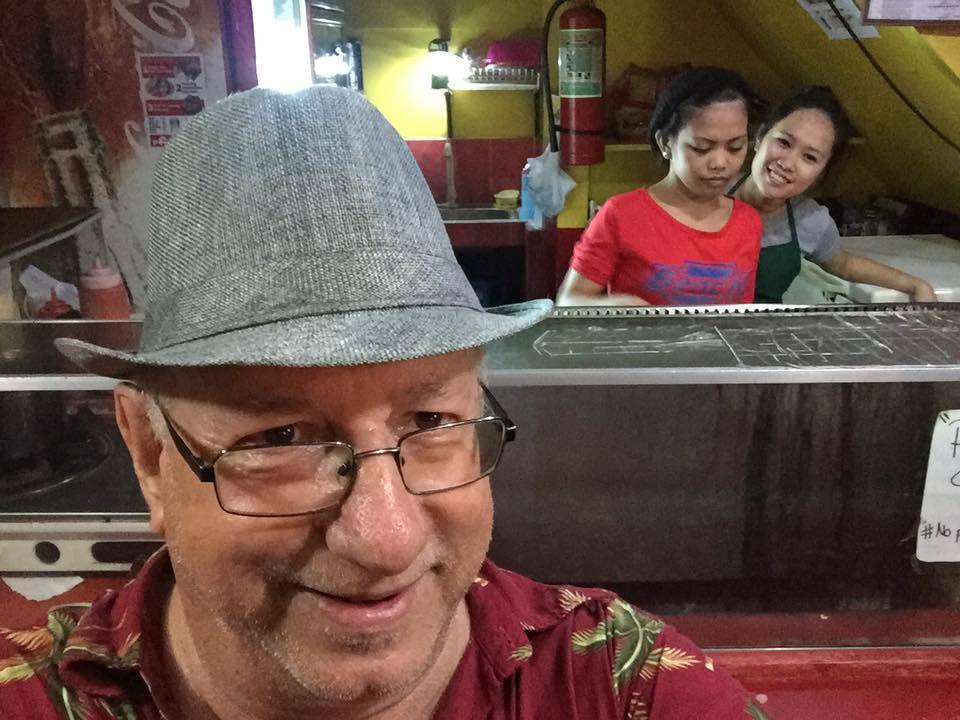 Don In Davao

Davao City is the home town of the current President. He was the Mayor here for many years. His daughter is the current mayor. President Duterte ran this city with an iron fist.

He got rid of all the drug dealers and most criminals. His methods are very controversial. It's basically using vigilantes to gun down dealers on the streets. In the past 90 days over 2,000 killings have taken place around the country. No one seems to think that's bad.

Davao City is one of the safest cities in the Philippines. Mind you that's not saying much as the entire country is really quite dangerous.

Funnily enough it never actually feels dangerous in Davao. We first came here in 2013 and established a company here (Shenanigans Inc) and opened an office. The office is the workplace for about 35 people who mostly work for my son, Kris. He has built a very successful business which helps websites rank well on Google and manages their reputations.

I'm currently here to train some new Customer Support staff who you will soon be interacting with on the phone and live chat. Also it had been a few years since I was last here.


NEW SERVICE: Would your website benefit from providing a 24/7 live chat service?
Because we have the trained staff here anyway, we can very easily provide the same service for your website. We can take calls, take live chats and even respond to emails. Contact us for more information

Speaking of websites, one thing yours really needs is visitors. The company you are with mos tlikely provides you with a beautiful, informative site which just needs people to come and visit it.

The more people who come to it, the more who will join your business. There are a few ways you can increase the visitors to your site. You can try getting the site to rank in google, but that will be quite difficult and take a lot of time.

You can buy traffic from Facebook advertising which is instant and can be targeted specifically to give you very high quality visitors. Of course there is a learning curve involved with this but its really not very hard.

You could probably get a campaign going within one day. If you would like to learn from experts, I highly recommend joining Digital Marketer.

The other way to get targeted traffic to your website is to simply buy a package from us. Yes we sell home based business traffic and if you order today you can have some home business seekers coming to your site iwthin 24 hours.

We dear reader, it's a big holiday here for a festival and I can hear drums beating and must be away to investigate and no doubt get up to some sort of shenanigans.

Meanwhile, please share this post, like it and or comment. I do love to hear your thoughts and always reply to every comment. Also have you seen our Apache Leads Facebook page? I have to say it's pretty good and has a bunch of great stuff on there. Check it out